Duo Skarka-Pohl in concert
Mood:
lyrical
Now Playing: Nothing, still...
"The meeting of two personalities is like the contact of two chemical substances: if there is any reaction, both are transformed." (Carl Gustav Jung)
Well, me and Josef were definitely transformed during the time we were working toghether. Benefities of our mutual enrichment were highly appreciated by both Vlastimil Lejsek (Czech pianist and composer on the picture below) and Antonin Dvorak Society for which we performed our recent Art Song recitals. About the latter I will provide more detailed information later, as well as the pictures from that satisfying Prague performance. Pleased Maestro also asked for some performance of his own ouevre in the future.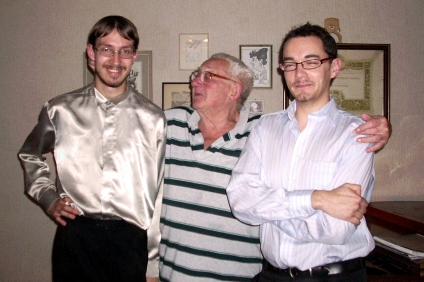 Posted by Richard Pohl at 10:36 PM MEST
Updated: Sunday, 27 July 2008 2:12 PM MEST